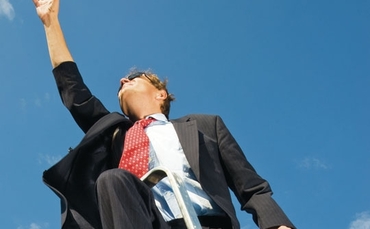 IBM recently released the results of their CIO study survey which predicts a boom in the enterprise cloud adoption. As I usually do with any vendor sponsored survey, I take it with a grain of salt. However, this is a trend most of us observe in the industry and I won't be surprised if this turned out to be accurate. Irrespective of the numbers in the survey results, one thing is clear. Enterprises are embracing cloud in large numbers, whether it is public clouds or private clouds or hybrid. In this post, I will briefly discuss the survey results. Those who are interested in learning more can request their copy from IBM website.
Before I talk about the results of IBM survey, let me plug in some of my own findings obtained through non-scientific informal discussions with CIOs and other IT leaders in the enterprise market.
CIOs understand that having a cloud strategy is critical for their organization's business success. Almost all of them are already fielding requests from below but many are expecting pressures from the CEO level in the coming year(s)
As expected, private clouds are in their minds and they see private clouds as a way to optimize their existing infrastructure and a way to add efficiency in the delivery of resources
Many of them expect most of their non-critical workloads to shift to public clouds in the long term future but, right now, they are waiting for it to mature
Even though security is a main concern, reliability issues are slowly creeping up in their minds. At least, the two executives I spoke after the recent AWS outage were wondering about the reliability factor
Having plugged my own conclusions in the post, let me now focus on the results of IBM survey.
The IBM survey was conducted with more than 3000 global CIOs
60 percent of organizations are ready to embrace cloud computing over the next five years as a means of growing their businesses and achieving competitive advantage. This is double the number from last year's survey
Across different verticals, media and entertainment rose to 73% followed by automotive at 70% and telecommunications at 69%
Across different geographies, 70% of the CIOs in US, Japan and South Korea consider cloud adoption as a top priority, followed by 68% in China
The cloud adoption in some of the Asian countries are not surprising. I have been hearing from cloud platform vendors and some consultants about the traction they are getting in these countries. In fact, companies like Eucalyptus have opened their offices in some of these countries. IBM, the company behind this survey, has some large investments in China.
The survey also predicts analytics, business intelligence and mobility as other major trends in the enterprise side. I see mobility as a great enabler of cloud computing and analytics and BI as the next logical evolution after cloud. The excitement around cloud computing is rapidly increasing and it is just a matter of few years before cloud computing ceases to exist as a separate field and becomes a part of our consciousness as web has become today.
Related articles