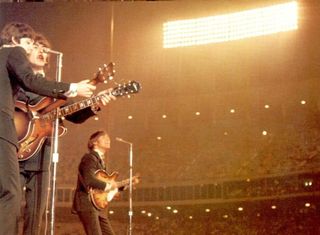 For a Beatles' fan and a fan particularly of John Lennon, the number 9 has an important meaning. It has enough meaning Lennon wrote a few songs referencing it, including Number 9 Dream. Perhaps I like Number 9 Dream because it seems to be, quite literally, calling my name on the background vocal track. But it has enormous relevance to today. The song was on an album called Walls and Bridges and few understood at the time what the implications of the song or the album were. Suffice it to say it was about a lost weekend and making personal connections. Whatever gets you through the night.
Whatever gets me through the night is Dreamforce – at least this week. The theme of Dreamforce #9 (our ninth Dreamforce) aka Dreamforce 11 (named after the calendar year) is the Social Enterprise and it is about knocking down barriers to the walls and creating bridges across corporate divides and information silos that have been the bane of organizational structure since the days of the factorified industrial revolution. It is about putting that personal connection into technology that has somehow dehumanized and devalued individuals until Facebook tried to reconstruct them.
Interestingly, the Beatles 45 years ago played to an audience of 45,000 people at Dodger stadium, and the cost was $4.50. How amazing is it that the Number 9 Dreamforce brings in the same number of people as the Beatles? Times have changed. But the concept of dystopian disconnections and broken networks exists.
One has to unpack what is going on here to fully understand why Dreamforce has become what it has become. It is not just about social, or cloud, or a great destination place. It is not the art of the science of marketing and showmanship. It's not even necessarily about salesforce.com.
Taken individually or collectively these are not the reasons people come to Dreamforce. The reasons are far more complex. There is an enormous switch in the technology world. Some call it consumerization of the enterprise – that's what we called it in 1999. Some say it is because of the advent of social. Some say simply it's the next wave to social plus CRM. Each of these things individually and collectively undersells the shift.
The shift is being telegraphed by the all the arrows with wood behind them all pointed in the same direction:
There from a post-PC world and the biggest catalyst of our time – the iPad – to a more highly engaged workforce.

There is an inherent need to break through the corporations' own self-inflicted hermetically sealed connections, cliques, and networks.

There is a rise in the individual contributor who, now geared with an iPad and knowledge on how to use new accessible tools,  breaks down those walls and form new bridges.
The real enemy of this shift is not any company. We are seeing meaningless and heartless competitive slinging in the social spheres. The reality is that no company can do this by itself. There are no real competitors.
The real enemy is entropy. It is that it very difficult for corporations to unbreak the seemingly unbreakable desktop philosophy.  It is that companies sometimes give up – and say – it's OK. It works. But it does not. Take Outlook for example. It is pervasive. It sells copies and steals souls. The fact is Outlook and email create cliques. Social networks break them down. Desktop computers tie people to a workplace. The social enterprise frees them. People don't want to be tied into a corporate mantra. They want to express themselves and be valued.
To put it in perspective and visually, here are the problems, the vision, and a vision for how to escape it.
| | | |
| --- | --- | --- |
| Entropy | Vision | End-game |
| Email | Marketing Collaboration | Full collaboration |
| Command | Control | Listening |
| Cliques | Silos | Freedom |
| Clicks | Touch | Interaction |
| Presentations | Powerpoint | Authenticity |
| Functional | Adaptive | Engaged |
| Time-sensitive | Asynchronous | Real-time |
| Desktop | Cloud | Mobile |
| OS gearheads | Cloud gearheads | Empowered contributors |
| Top-down | Bottoms-up | Collaborative |
| Servers | Software | Social |
Entropy kills companies. They don't even know it. It is far more subtle than 1994 when the Internet was opened up to the public and companies kind of realized they should hop on it or die. Instead the lack of social engagement catalyzed by mobile devices and a breakthrough in interconnected people, data, and devices can kill corporations slowly. They will be assimilated and eventually die unless they adapt.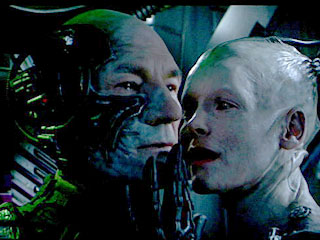 Most organizations and specifically the people in them realize this. And they are looking for freedom. What they need to know how to move from the shackles of corporate confinement to a new age of enlightenment.
That's why people come to Dreamforce. They know the subtext. They need the answers.
"Magic in the air, was magic in the air? The spirit dance was unfolding. Ah! bà wakawa poussÃ, poussÃ." – John Lennon
#DF11
(Cross-posted @ The Cloud Blog)