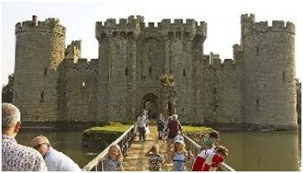 At the recent Spigit Customer Summit, Jeffrey Phillips of innovation consultancy firm OVO presented on the benefits and trade-offs of external communities. Open innovation is a growing area of interest for companies, where they work with external constituencies to provide input for future business, product and operational roadmaps. For good background on this movement, check out industry consultant Stefan Lindegaard's blog.
Jeffrey Phillips' presentation, and some follow-up discussion, is shown below. For additional color on his presentation, see the information posted to Twitter about it.
Ships and Castles
A military philosophical argument centers around "ships and castles". Ships are better at extending a position, and picking up new information and treasure. But they are also more vulnerable to attack. Castles are much easier to defend, and are ideal for protecting the information and treasure one already has.
The metaphor works well in considering external innovation communities. Innovation is a critical element of companies' organic growth, and is emerging as a critical basis for surviving in an era of increasing volatility. The natural tendency is to be protective of ideas, and to limit their exposure to competitors. This is the castle strategy.
But the ability to tap thousands of new minds for ideas your product, from the very same people that make decisions whether to buy your product, is a powerful incentive to pursue external innovation communities. This is the ships strategy.
External Community Benefits and Rationale
He lists five benefits from utilizing external innovation communities:
New, different perspectives from actual users of your products
Volume of ideas
Better, different ideas by tapping the minds of many
Identify your lead users
Wisdom of crowds, to understand what's trending and considered most valuable
Building on these benefits, Jeffrey lays out the rationale for external communities:
Insight: How much more (or better) insight exists outside the company than inside?
Bandwidth: Can the crowd generate more ideas more quikly?
Value: Can the crowd identify ideas that are more likely to be valuable or interesting?
Speed: Are we using communities because we can generate ideas more quickly externally?
Continuity: Are we using communities to receive ideas over an extended period of time?
Innovation Community Structure
Communities can be structured on two separate factors. The first decision is to whether to set the community up as suggestive or directed. Suggestive communities are wide open, seeking ideas from customers and partners with no guidance from the company. Directed innovation communities seek input along specific guidelines set by the company.
The next factor is to decide whether the community open or by invitation. Open communities let anyone participate, and attract those with particular interest in your company or products. Invitation communities are made up of participants with specific characteristics. These communities are good for eliciting ideas from those with desired levels of knowledge or experience.
Which Works "Best"
Jeffrey then prescribes which types of communities are best for different types of innovation objectives:
Incremental ideas: any structure works
Disruptive ideas: directed/invitational
Speed to deploy: open/suggestive
Gaining "wisdom" from the crowd: open
Ideas tightly aligned to strategy: directed
Significant number of ideas: open/suggestive
Direction/Communication
Unlike internal innovation communities, external communities are made up of participants that companies do not pay, manage or control. Success in external communities is determined by the communication and directions offered to participants.
This is an important point. External innovation communities cannot be done as a deploy-and-forget exercise. They are important venues for engaging customers, requiring support from designated employees.
Check out the presentation for more good information as you consider your external innovation community.
(Cross-posted @ the Spigit Blog)