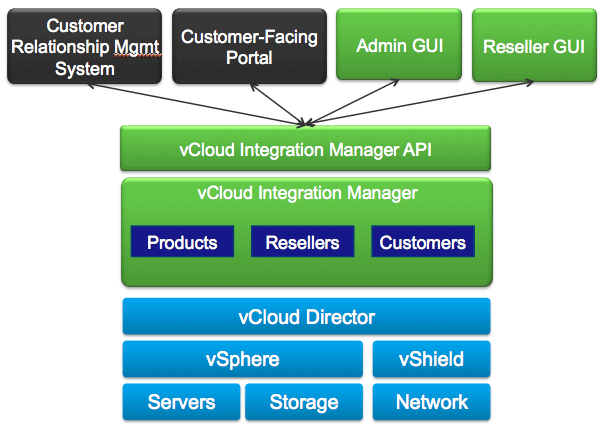 Yesterday, VMware announced the release of vCloud Integration Manager, a missing piece in their quest to create a service provider ecosystem running VMware's cloud infrastructure platform. Essentially, it is an orchestration and automation piece needed for service providers to provision resources requested by their customers using a REST API or a web GUI. Many other cloud platforms already have this service provider focussed solution available and VMware is catching up in the game. Interestingly, this VMware announcement also points to their renewed push on the service provider side. In a segment traditionally filled with reseller channels, vCloud Integration Manager lets service providers set up reseller accounts along with the provisioning and de-provisioning of customers. If you want an analogy from the traditional hosting world, this is akin to Web Hosting Manager from cPanel (not an exact comparison but it should give you an idea of what this product is).
VMware's Cloud Push
Even though many think I am an open source wonk, I have always argued in this blog and elsewhere that open source is more about choice than about source code availability (an argument many others in the cloud industry seems to have picked up in the recent days). I have always argued that the users should be presented with wide variety of choices including proprietary and open source solutions. In fact, this thinking is one of the reasons I have used the heterogeneity argument in my definition of federated cloud ecosystems. I see heterogeneity in cloud infrastructure platforms as an antidote to any monopoly that could develop in the market.
Another important characteristic is the presence of heterogeneous platforms in the ecosystem. A federated cloud ecosystem can be realized just with one cloud platform as long as the platform supports federation but it will just shift the monopoly from the service providers to the platform. Monopoly at any layer is bad for the users and this characteristic ensures that we avoid monopoly at the platform layer. I don't support monopoly even if the underlying platform is open source. The idea of heterogeneity not only helps avoid any monopoly, it is critical to handle the needs of long tail users. More importantly, as I will explain in a future post or research report, it will help cloud customers avoid the so called cascading failures (Cloud is a complex adaptive system and heterogeneity is critical to avoid cascading failures in such systems) in IT.
In this context, vCloud is an important player in the federated cloud ecosystem I aspire to see in the infrastructure market eventually.
After the perceived failure of vCloud Express, VMware switched gears and started pushing hard with vCloud Director. Initially, their push on the service providers side appeared to be anaemic but they seems to have picked up pace in the last year. According to VMware, there are now 94 clouds in 19 countries that are powered by vCloud and their service provider business grew by 200% in 2001. Though not great compared to their virtualization marketshare, these are decent numbers taking into account cloud hosting market is still at its infancy with enough room for growth. A solution like vCloud Integration Manager is critical for further push in this market.
In fact, I want to see more cloud infrastructure providers than less (in some form of consolidation). I feel that more choices will empower the customers and also cater to the diverse needs (both in the technological and regulatory sense) of users from different parts of the world. This is one of the reasons why I am advocating the idea of federated clouds in this forum and elsewhere. If you hear pundits claiming consolidation and handful of cloud players offering compute services like what is happening on the electricity side, feel free to ignore them because they are just being shortsighted. It isn't going to happen anytime. We are going to see a surge in the cloud infrastructure providers in the coming two years and vCloud is going to be one of the serious contenders in the space.
But
A year or so back, I had a chance to talk to CEOs of two of the service providers who are transitioning from the traditional hosting to cloud hosting. At that time, they were relying on VMware's vCloud initiative to offer their cloud offerings. When I pressed them about the economic viability of using VMware technology to compete with the commodity cloud providers like Amazon and Rackspace, they both agreed that it is going to be tough. There is no way they can compete with service providers using open source infrastructure platforms on commodity servers when they shell out huge licensing fees to VMware. Eventually, they have moved into offering tiered cloud services with open source technologies driving their commodity cloud offering and VMware technology staying beneath their enterprise offerings. Now, with OpenStack marching ahead in full force, we are going to see more and more service providers adopting OpenStack to offer cloud services at commodity prices.
Some pundits right away dismiss the idea of enterprise cloud as DOA but I disagree with them. I do agree that we will see modern applications being built for cloud architecture (with design for failure and built in performance optimizations (to perform better on commodity hardware)) in the future. However, it doesn't mean that there are no role for enterprise clouds, at least for the next 5 years or so. First, organizations are not going to shelve their legacy applications but more and more of them are going to push these applications to run on public clouds. However, these applications are not suited for commodity clouds like Amazon EC2. Enterprise clouds will have a role in catering to the needs of such applications. Though legacy applications may become historical footnote sometime in the future, it is not going away anytime soon. Second, not every organization want or need modern applications running on commodity clouds. Some of them may stick with legacy architecture for business or legal reasons. Remember, we still have organizations running mainframe after so many decades. Enterprise grade clouds will cater to these use cases as well. Third, some organizations might build their modern applications on "premium clouds" just because they can (much like how some people want to drive Hummers when they can as well do the commute using public transport or a low end car). Enterprise clouds will come handy for these kind of use cases too. In all the above mentioned use cases, VMware will be a strong contender.
However, it is my opinion that VMware's cloud platform will be catering to a niche user base in the long run while commodity clouds based on open source software and cheaper hardware, will be powering most of the infrastructure needs of the world. In the long term, it is going to be tough for VMware to sustain their dominance in the infrastructure market. If CloudFoundry (previous CloudAve coverage) takes off as expected, VMware can tap into it to stay relevant in the future infrastructure market. How successful they will be in taking advantage of CloudFoundry to sustain their infrastructure side of the business is difficult to predict at this stage. It is going to be an interesting five years for VMware's infrastructure division.
Related articles