Apple CEO Tim Cook left behind his old metaphor of "fridge and toaster" and is now calling Windows 8 a car that flies and floats, while not exactly doing either function very well.
I am not exactly a Win8 fanboy, but there are a few (emphasis on few) things Win8 is doing well: informative tiles are one of them.  And there is no way of denying typing is still the dominant input method to any device.  Touch is mostly for passive consumption, voice –  commands, dictation – is emerging, but far from perfect, and there will always be environments we need silent input… so for the foreseeable future we need some form of keyboard.  If Apple is in denial, Logitech and others take advantage, so will Asus with its Transformer series, and yes, Microsoft with Surface.  Surface may not be perfect – well, it is not… and forcing a tablet-oriented touch based OS on PCs is probably not a good idea… but .. but.. whoever comes up with a convenient, ergonomic and stylish way of combining touch and typing on a tablet will likely be a winner.
Now, on that car business.  The flying car is not fantasy, and it does not have to be as clunky as MG Siegler's image suggests: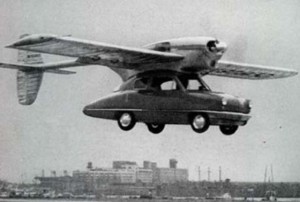 Is that a Citroen? If so, MG is close to the truth.. but he is probably too young to have seen the Real Thing, Fantomas's Flying Citroen: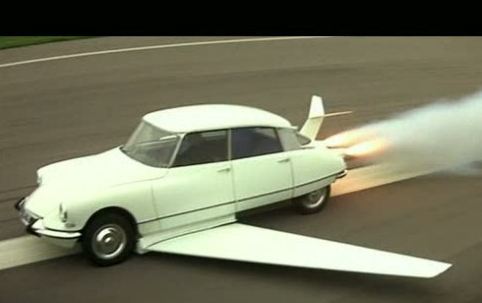 Too bad all that's left is the above still photo, this video shot was really cool .. until the copyright owner removed it.  Now there's no more video evidence of the best flying car, ever.