I don't know about you, but I've basically bought every 'cool' gadget ever made, from the Creative Nomad to an original ReplayTV to all 3 generations of the AppleTV to a Uniden WebPhone to the Nintendo VirtualBoy.  Yes, a VirtualBoy.  Yeah, a lot of gadgets.
Only a handful have really made a difference.  The iPads 1 and 3.  The TivoHD (before that, you couldn't really watch any HD TV since it was only broadcast a few hours at primetime).  Sony NEX-5.  My first Pioneer plasma TV, 50″ in 2000 (don't even ask what that cost back then).
Perhaps the greatest of all was my Blackberry 957.  This was actually the second Blackberry device RIM made, but the first, the 950, was really just a pager that got email.  Cool tech, but not the right form factor.
But then came the 957 around 2000.  I got one immediately.  And it was amazing.
Why?  Not just because I could email from anywhere (which was pretty tough in 2000, pre-WiFi, pre-3G, pre-any mobile email except Blackberry, really).  But because, for the first time even, I could pretend to be in the office when I wasn't.
Man, that was epic.  I could slip out of the office and go running and respond from my car right afterward.  I could go shopping and respond from the store.  I could go out to lunch but still respond while waiting for the check.  And no one would be the wiser.
The key in 2000 was (x) a totally rocking keyboard and (y) great email technology.
Ok fast forward to 2012 and my brand new Droid M I bought today.  The Droid M and the iPhone5 as hardware are amazing.  Both are so feather-light you can't believe it.  And with a perfect form factor (like the 957) — just the right size to do a lot, without being overwhelming.
And yet.  I can't pretend I'm in the office anymore.

I know everyone is using those on-screen keyboards and pretending they actually work for business communications.  But you can tell.  The email responses are too short.  The typos, even autocorrected, are too many.  It sort of works, yes, but there is no way on an Android or iPhone you can pretend you typed that email in the office.  Yes, a 3G/4G laptop can do that (we didn't have those in 2000), but that's way too much to carry around.
And my last device?  The only Android that was small with a real keyboard – the Droid Pro.  And let me tell you what I learned in 10 minutes today.  As bad as that Droid Pro keyboard was (10x worse than a Blackberry keyboard) — it's 10x better than a virtual keyboard.
I understand that using a current Blackberry device is beyond embarrassing.  I also understand that only us old people over 30 use email.  And that social works just great on a keyboard-less device, mostly.  See, e.g. Instagram.  I also understand that today the concept of the "office" is a bit dated, with virtual workforces and the like.
But.  I think, I hope, I know Blackberry 10 will do something special:
(x) Enough of the web (Facebook, Twitter, real Webkit browser, Google, Yelp, etc.) to do everything that really matters.  
(y) And a wonderful, ergonomic keyboard so I can still pretend I am in the office.  
For that, I will break my contract in a heartbeat.  And even proudly claim to back in the BB fold.  That is a wonderful thing.
{Let's see if Marissa can do the same with Yahoo}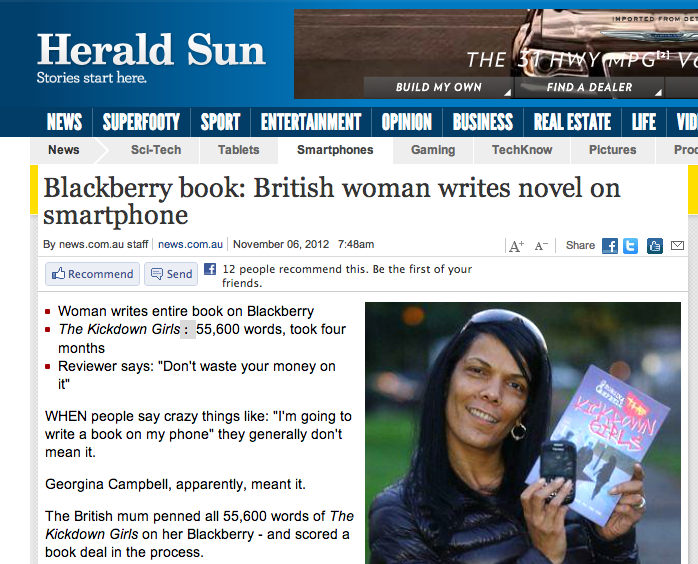 (Cross-posted @ saastr)