New research from consulting firm, KPMG, gauges the view of cloud vendors on several key issues, including barriers to cloud adoption and important influencers in the cloud buying process. The survey describes results from 179 senior-level respondents from vendors that provide cloud services.
READ MORE POSTS FROM THE BEYOND IT FAILURES BLOG
Barriers to adoption. The survey results describe three points as the largest barrier to cloud adoption:
Providing evidence of cost savings
Shifting to usage-driven pricing
Helping clients develop usage-driven pricing
These points are shown in the graph below: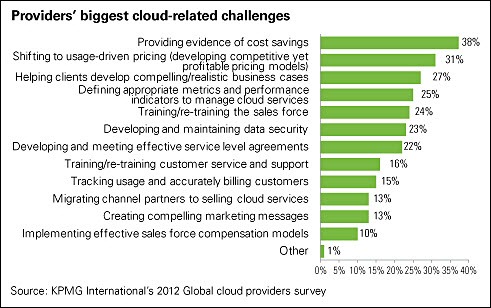 Customer decision influencers. According to the survey, buyers remain confused about many aspects of the cloud:
Less than half of the providers in the survey feel their customers are informed or well-informed about cloud computing at the executive level. Only 43 percent believe users are aware of cloud costs vis-à-vis their existing IT services, and a similar proportion feel they do not fully understand cloud security, pricing models, integration with existing infrastructure and service level agreements (SLAs).
The data shows that senior executives hold significant influence in the decision about whether to purchase cloud services, as shown in this diagram:
WHAT IT MEANS
This survey is primarily interesting because it points out the high level of buyer confusion remaining the cloud market. The results suggest that buyers view the cloud primarily as a means to save money, but do not understand usage-based pricing and are unsure how to create realistic cloud business cases.
On one level, these results are not surprising because the cloud is currently in a transition state. At the same time, the results demonstrate a clear need for vendors to provide better education around cloud business models, benefits, and economic differences from traditional on-premise products.
The challenge for vendors is explaining these points while helping customers make a cloud transition that does not disrupt operations. In the long term, business model disruption based on technology is beneficial; however, no enterprise buyer wants to disrupt their own ability to execute daily operations. Aside from helping reduce buyers' economic confusion, the best cloud vendors support their customers' operational transition to the cloud.
It is also important to recognize that this survey focused on vendor perceptions, so the emphasis on cost rather than enterprise business transformation makes sense. Although cost plays a primary role in any business transaction, the real promise of cloud is broader business model improvement and the potential for innovation. Yes, cost matters, but let's not lose sight of the underlying potential for real business change; that's the real long term value of cloud.
(Cross-posted @ ZDNet | Beyond IT Failure Blog RSS)