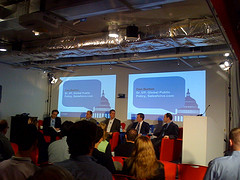 Image by
TreyDanger
via Flickr
I am a strong advocate of Conference 2.0 concept. The way conferences are
organized now is way too old fashioned. We have moved from the stone age to the
Cloud era but the way the conferences are held are still frozen in the stone age
ways. We still travel distances and gather around and talk about different
topics. Instead of Chisels, sickles and other stone age tools, we are attending
conferences with iPhone, Blackberrys, Netbooks, etc.. It is sad that even the
conferences on latest technologies are conducted in the old fashioned way. We
don't even utilize the technologies we promote for our living.
Cloud Slam '09 is a
conference that is set out to change this trend. They are planning to hold a
totally virtual conference on Cloud Computing from 20th April 2009 to 24th April
2009. Leading experts in the field of cloud computing will be participating in
this conference. The conference tracks includes
Technology
Implementation experiences from various industries
Legal Aspects: Privacy and Compliance
Business Models
Research
It is more in the style of academic conferences and attendees can either
present a talk or a poster. The submissions will be evaluated by a group of
experts and the final list will be put up in the coming months. The cost of
registration is very minimal (USD 40 for early bird and a general rate of $52).
These rates are on par with local mindcamp events we attend. You can register
using this
link.
If we can use clouds and access all our data and applications, if we can use
facebook and twitter to network with people, why can't we tap the same
technologies to run conferences and protect the environment? If we do the math
and calculate the energy spent by the organizers and attendees of conferences,
we will definitely take the idea of Conference 2.0 or Conference on the Clouds
or Virtual Conference seriously. In fact, the conference organizers are using a
new technology called iLinc Green Meter that calculates, based on each web
conferencing participant's location and the standard emission rates for cars or
planes, a metric that will measure the environmental impact.
I simply love this idea and I strongly encourage everyone interested in Cloud
Computing to attend this event. Kudos to the organizing team for bringing the
concept of Conference 2.0 to reality.
Related articles by
Zemanta