Put the last nail in the Vista coffin. Windows 7 is on the fast track.
– good summary of the Windows situation by Signal to Noise. Yes, Win 7 Beta will be available for download starting tomorrow, and it promises to be less of a resource hog than Vista. Microsoft also talks about providing free upgrades to Windows 7 for Vista users – at least those who buy Vista after July 1st.
Good start, but not enough. The upgrade assurance is vital for both Microsoft and more importantly its OEM partners, the computer manufacturers to avoid a slump in computer purchases while waiting for the next OS.
But let's not forget what Win 7 really is: it's Vista Final. As it has been widely discussed, Win 7 does not have a new kernel, it's all about lots of incremental improvements to Vista. In other words, it's a Vista that works – using the Microsoft lingo perhaps it should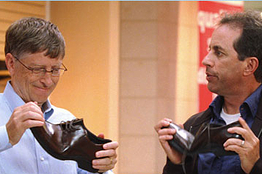 be called Vista SP3.
Make no mistake, the accelerated move to Windows 7 is a marketing decision, not a technical one. Vista became such a disaster that Microsoft finally realized no amount of marketing can save it: it was better the abandon the shipwreck and start with a clean slate, a "new" Windows product.
But that leaves millions of Vista victims behind, who did not want to by this junk, but had no other choice when they bought their computers. I've repeatedly said that Windows 7 should:
Be released as Vista Final (meaning it works)

Be provided as a free upgrade to Vista
Come with a letter of apology to all Vista victims
OK, I know … fat chances for the letter of apology. But I am serious about the upgrade: customers who paid for Vista deserve a working (SP3-level) OS. Abandoning those millions would be akin to a hit-and-run on a mass scale.

Update: Finally, I don't feel alone anymore: Jason Perlow @ ZDNet agrees: Windows 7 Should be a Fixta Free For All:

…since Windows 7 is essentially a performance and usability fix for a
defective product, I'm of the increasing opinion that a Windows 7
upgrade should be free to anyone who was conned into buying Windows
Vista.

Update (1/11/09): Alec Saunders has a similar opinion (emphasis mine)

If you can remember back to the dark ages of the PC industry, in
1990 Microsoft shipped Windows 3.0. A technically ambitious product
for its time, it was the first version of Windows to incorporate
protected mode memory management. Needless to say, it wasn't perfect.
Not until Windows 3.1 – the "dot" release — shipped in the spring of
1992 were the complaints about 3.0 were finally put to bed. Windows
3.1 introduced some minor user interface changes, but fundamentally it
was the release that fixed the Windows 3.0 problems.

Sound familiar?

Based on what I've seen in the last 24 hours, when Windows 7
eventually ships it should put to bed the complaints about Windows
Vista once and for all. Windows 7 is the "dot" release to Windows Vista.

Related articles by
Zemanta