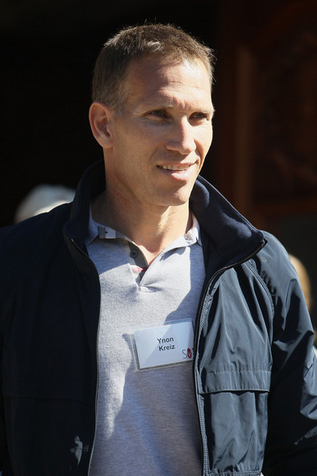 Our industry just took one big step towards legitimacy with the hiring of renowned media exec Ynon Kreiz to run Maker Studios. The industry finally has one of their own at the helm of the largest YouTube network.
This followed an investment late last year by Time Warner in the company in a round totaling $36 million, led by Rachel Lam, head of their investment group. This has been a very welcome addition.
And this month we announced that Maker Studios, where I am an investor and board member, crossed 3 billion views. And for the record, that's per month not total in aggregate!
So if Time Warner + Ynon Kreiz + 3 billion views / month isn't legitimacy, I don't know what is.
I frequently hear critics saying, "yeah, but you can't monetize on YouTube."
While I will admit that there are still issues in building a profitable business on YouTube alone given the YouTube vig plus talent payouts – I can tell you first hand that big businesses are being built, brands are significantly more interested in large media buys, audience loyalty and brand building are taking place and at volume this looks like the making of the next generation of online media to me.
If you want to understand my thesis behind Maker you can read this article that outlines the trend, but in summary:
People watch 5.3 hours of TV / day. They read less than 30 minutes. You can't change media consumption patterns easily. The future of the Internet is video. Full stop.

Production costs have fallen more than 90%. Distribution costs have, too.  This is classic "Innovator's Dilemma" market conditions.
My estimate is that the top 5 YouTube networks will do > $200 million net revenue in 2013 (after Google's share)
These same top networks – Maker, Machinima, Zefr, FullScreen, BigFrame – and the like have create nearly 1,000 new tech / media jobs in LA in the past 3 years alone.
The news that Ynon Kreiz is joining to run the company as Executive Chairman was first reported by Peter Kafka at AllThingsD (and later picked up by Variety, AdWeek and several other traditional media outlets.
Ynon Kreiz is a force of nature in the media and tech sectors. He created Fox Kids Europe and took it from scratch to worth North of 1 billion Euros in value and was ultimately sold as part of a $5.3 billion deal to Disney. He became a VC at London-based Benchmark Europe (now Balderton) and then CEO of Endemol, a large multibillion media company best known for creating & owning global franchises for Big Brother, Deal or No Deal and other unscripted television.
Ynon & I first discussed Maker in early 2012. Dana Settle (Greycroft) & I had led the first round of investment in the company in 2010 and we were looking for smart media investors to join us as investors in the company. We had a series of meetings with Ynon and thought he's be a great addition to our team.
Ynon had decided that YouTube would play a major role in the reshaping of the video business and he wanted to figure out how to be involved. He initially started by becoming an investor in the company along with many of the good & great of our industry including Shari Redstone, Elisabeth Murdoch, Jon Miller & Robert Downey, Jr.
Ynon immediately began working with the founding team: Danny Zappin, Lisa Donovan and Ben Donovan and he established a really strong rapport as somebody who had the media chops and executive relationships but was grounded in the economics of low-cost video production & distribution.
The founders had been responsible for gaining staggering scale in the past 3 years, having been trail-blazers in building a network of talent and an unrivaled understanding of the YouTube ecosystem. They figured out how to motivate talent to work with the company, how to stitch together a network where everybody gained by being supportive of each other and they figured out how to make the economics work.
Like every group of founders they had a great team around them like David Sievers, Shay Karl, Kassem G and Nice Peter (who produces my favorite show on YouTube – Epic Rap Battles of History).
If you're in the mood, you might enjoy some of my favorites:
* Moses (Snoop Lion) vs. Santa Claus
* Mr. T (DeStorm) vs. Mr. Rogers
* Babe Ruth vs. Lance Armstrong
But the founders also recognized – as many great founders do – that they were going to have to build out an experienced management team to become the billion company everybody believes this can be.
The first move was to bring in digital media veteran Courtney Holt as COO. He has proven to be one of the most knowledgeable & competent senior executives in the online video world. And he has truly been a pleasure to work with. He joined when Maker was a small, chaotic organization and helped bridge our talented creative team with the outside world of investor, brands, partners & press.
Another major hire was Ryan Lissack who joined as CTO. Ryan was not only a senior engineer at Salesforce.com (he ran mobile and also ran content management) but was also my cofounder at Koral and lead architect at BuildOnline. Needless to say I think Ryan is one of the most talented engineering leads in LA but I'd stack him against anybody in the Valley, too.
So it should be no surprise to anybody that Maker is not a talent only company. It is a "talent first" company but one under-pinned with a serious multi-million dollar investment in technology that has helped fuel our growth and will continue to provide tools & support for our talent.
And anybody who read Danny's transition letter to the company would note that he gave one shout out to Mike D (Michael DiSanto), who is now moving to the Bay Area to help run the tech practice for Bingham.
"Without you none of this would be possible. Thank you."
It's true. I had written about Mike before but hadn't disclosed his name. He is the anonymous lawyer I talked about in this post who talked me off a ledge at a particularly vulnerable moment on a past transaction.
He was not a lawyer at Maker Studios – he was a behind-the-scenes leader.
To the credit of Danny, Ben & Lisa – they never aspired to be the CEO's of a rocket ship media & technology company. They always said to us, "we believe we are best positioned to lead this company through the important stages of growth and we would like to do that. At the right time we would like to work with you to bring in the appropriate leader to help us build this company to the next level."
Dana & I took a chance on the founders early on. But they built the company into what it is today. And we are unbelievably proud to see the company grow from small, crappy offices above a taco shop in Venice to a production home in Culver City with 70,000 square feet and more than 50,000 individual content contributors.
Danny and Ynon in a way will switch roles. Ynon started as shareholder, board member & advisor and switches to full-time executive. And Danny switches to major shareholder, board member & advisor. I look forward to continuing to work with him in his new capacity – as a peer.
Ben & Lisa have always held enormous talents and I look forward to working with them as they help grow the company, increase & improve production quality, build out vertical networks, form partnerships with major brand advertisers and develop new sources to monetize both on and off YouTube.
Ynon was the obvious choice to help the founders take the company to the next level since he had the trust of the founders, the investors, the senior management team as well as YouTube and most of the large media players in Los Angeles and internationally.
And that's why the online video space and YouTube ecosystem has taken one more leap toward its rightful place as next generation video platform. The media world now has its own leader running the largest YouTube multi-channel network startup. And the fact that a successful executive who could choose to run a traditional media company has chosen Maker as his next big bet is telling.
If you want to read some other articles I have written on the topic of online video and what I believe will shape the future, there are linked below.

(Cross-posted @ Both Sides of the Table)