During the latest episode of CxO Talk, my weekly video talk show with co-host Vala Afshar, social business expert Dion Hinchcliffe made provocative assertions about IT. Dion is chief strategy officer of consulting firm, Dachis Group, an experienced enterprise architect, book author, and fellow ZDNet columnist so we should examine his comments carefully.
In our discussion, Dion proclaims the era of IT essentially over, with line of business functions inevitably absorbing technology and leaving the CIO to reign as steward over nothing more than low-value technical plumbing. Think phone systems. Dion's perspective appears fatalistic, implying highly devalued IT departments that merely provide basic infrastructure while other groups in the enterprise absorb strategic aspects of technology.
Dion explains that, "our existing model for IT is broken in a highly proliferated universe," because organizations increasingly demand rapid access to solutions with a relatively short lifespan. Therefore, he calls the traditional IT model a "choke point" for technology innovation in the enterprise.
Following the CxO Talk show, I asked Dion to elaborate his views regarding the state of IT in its present form:
It's pretty clear to most technology leaders that traditional IT, as we know it, is undergoing the biggest challenge in its history. The advent of intense competition and tech innovation from outside the organization has reached an unprecedented and — more importantly, an unsustainable level.

Internal business customers can now far more easily obtain IT service from the cloud, SaaS products, app stores on mobile devices, and outsourcing partners. And they can do it far more cheaply, faster, and with less hassle this way. IT departments are now the hardest way to get things done (albeit there are many risks for shadow IT as well, though widespread problems due to it are not emerging as fast as many would have thought.)

BYOD is just another proof-point and canary in the coal mine as cheap, agile, disposable consumer tech remakes today's IT landscape. This means the infrastructure of IT in most organizations will recede into the cloud while digital strategy moves into other areas of the organization, including the much-discussed new role of Chief Digital Officer.

The global CIOs I talk to in general see this writing on the wall: The overly-centralized IT department as the provider of all technology is just as outdated a concept as sourcing all your IT from one vendor, like we did with Microsoft in years past and IBM before then.

It's a very challenging time to be in IT, yet also perhaps the time of greatest opportunity. IT seems to be splitting into 1) tactical infrastructure and 2) strategic tech innovation as applied to the business. The former is heading largely to the cloud, while the latter is going to move across the C-Suite in a variety of interesting ways.
These arguments are hardly new. For example, in 2008 I wrote a piece called, "Is IT becoming extinct?," which summarized a variety of reasons explaining why IT has lost influence in the enterprise. I followed that a post titled, "5 tips to prevent IT extinction," that offered advice to a scared IT crowd. In 2012, I also wrote about a devalued future for IT. However, since 2008 more data has emerged to strengthen Dion's argument.
For example, Dion calls out data that shows flat IT budgets while lines of business increase their spend on technology. Gartner presents this graph, showing flat IT budgets: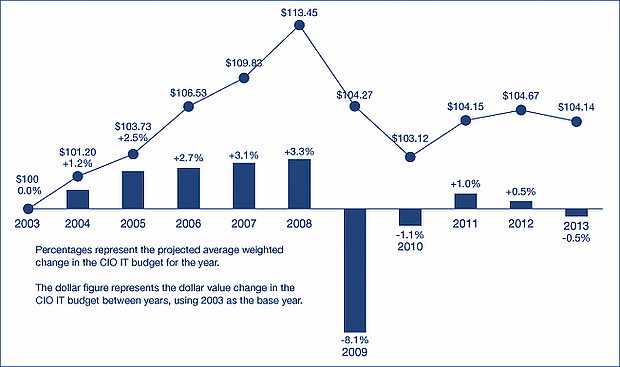 Source: Gartner
Meanwhile, this next chart, from Retail Information Systems, shows the growth of technology budgets in retail marketing between 2012 and 2015. The chart demonstrates that marketing will have significant increases in technology spending over the next few years. Although focused on retail, similar shifts are happening in many industries: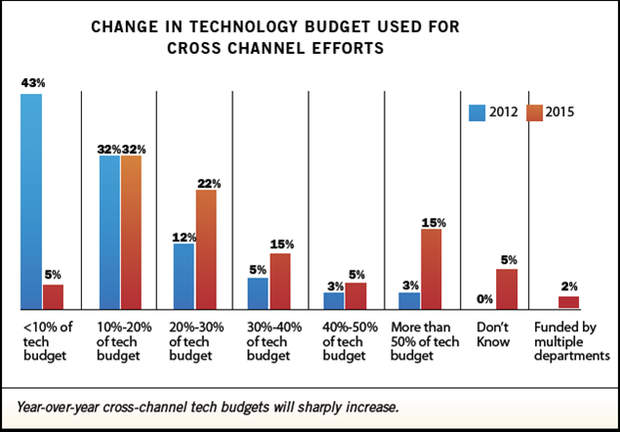 Source: Retail Information Systems
Dion's comments are also consistent with recent survey data described in a Harvard Business Review blog, showing a high level of CEO dissatisfaction with the current state of IT:
57% of the executives expect their IT function to change significantly over the next three years, and 12% predict a "complete overhaul" of IT
With project failures remaining at high rates and IT continually blamed for lack of responsiveness, it's no wonder that the existing model seems to have broken down. But, this problem will not be solved by simply waving a magic wand that transfers technology to marketing or other groups inside an organization. The problem and solution are more nuanced than that.
Simple technology transfer arguments fail to recognize that when IT becomes less involved delivering specialized technology to lines of business, those groups must learn to become deep technology experts. When lines of business transform into IT departments, they will face similar challenges as IT itself. Unless, of course, we give the easy and fun stuff to lines of business and leave IT with the harder problems.
(This discussion does not even address core computing functions that must remain centralized — security, data integration, bandwidth, and network infrastructure, for example, should remain basic IT activities.]
The ability for lines of business to absorb massive change relating to technology will be an ongoing challenge in this new world. Therefore, the real solution is a new kind of collaboration between IT and lines of business.
'The most innovative CIOs I talk with recognize the essential importance of partnerships to address these issues. For example, during another episode of CxO Talk Kim Stevenson, Intel's CIO, said:
The next decade is about business transformation and business efficiency; how does IT help the business grow? You can't do it alone, it's always in partnership with the business, but IT can be a catalyst to that business growth. There are no IT projects; they are all business projects today.
During yet another CxO Talk conversation, Gartner group vice president, Mark P. McDonald, also elaborated on partnership between IT and the business:
Turning sparks into flame and growing that flame requires a scalable, very capable platform. That's what the CIO brings to the table. The most powerful combinations we've seen are the CIO and CMO working together with a shared goal to grow the business. When my goal is to grow the business, everybody has the potential to win.
On a different episode of CxO Talk, the CMO of LexisNexis, Steve Mann, said that marketing tasks such as campaign deployment and management, for example, require "intricate knowledge" that IT cannot fulfill unless they provide dedicated resources to marketing. Steve's comment further implies the kind of partnership that both Kim and Mark advocate.
Yes, the relationship between IT and lines of business are ambiguous and fraught with difficulty. However, the bottom line is this: partnership based on deep collaboration is the only solution that will work. Both IT and the business need each other; both sides must adapt and bend to the winds of change.
If you are a CIO, the message is clear: gain a more sophisticated awareness of business needs, actively forge cooperative partnerships with your business counterparts, and learn to say "yes" when the business seeks assistance. Your survival depends on taking these steps.
===============
CxO Talk is a weekly talk show that explores the tension between technology and lines of business in the enterprise. Our guests include senior level executives, analysts, and other top thought leaders who can offer a valuable perspective on the issues.
Here is a video of the entire conversation with Dion Hinchcliffe:
(Cross-posted @ ZDNet | Beyond IT Failure Blog)