Long and expensive enterprise software deployments are no longer an acceptable option for most organizations. In response to difficult economic conditions, shrinking IT budgets, and users who expect instant results from technology, the enterprise software industry has shifted toward smaller, more focused implementations.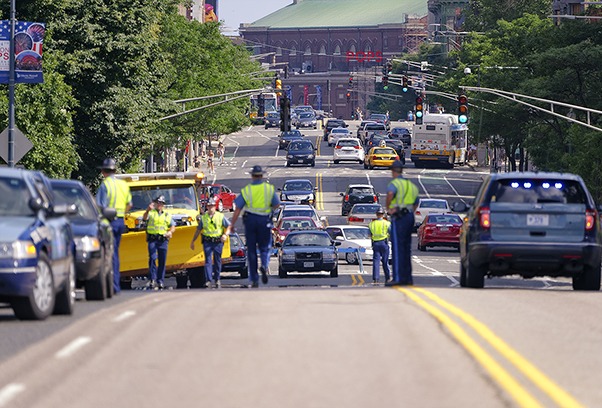 It is time to stop the roadblocks caused by long implementations! Image credit: Michael Krigsman
The entire enterprise software industry faces pressure from users who want to consume software without significant implementation expense. Although tempting to view the cloud as the primary driver behind the rise of rapid implementations, in reality, the roots (at least for ERP) go back to the mid-nineties when SAP released its AcceleratedSAP implementation toolkit (which, incidentally, I helped create).
Fast forward 15 years to today, most software vendors offer a well-developed consulting methodology and a rapid implementation program of some kind. For example, Oracle offers a program called Accelerate; Infor sells a consulting solution called Fast Start; and SAP's bases much of its consulting strategy around Rapid Deployment solutions. [Disclosure: SAP is a client.]
Each vendor's approach to rapid implementation may emphasize certain features, such as strong vertical market focus or automated configuration; however, they all address similar customer concerns over the high cost, time, and disruption associated with enterprise software deployments.
Defining implementation success
Although it is common to evaluate implementation projects based on meeting time and budget targets, genuine success requires specifying, and then achieving, specific goals and outcomes. For this reason, the best approaches to implementation drive early consensus and collaboration between IT staff and the business users responsible for the functions or processes the new software will touch.
In general, projects that IT originates tend to be weaker than those in which the business is engaged. In other words, close collaboration between IT and business users is a hallmark of successful IT projects; software vendors and consulting companies must bear substantive responsibility for helping their customers ensure this engagement. Although ultimate responsibility for IT / business collaboration lies with the enterprise customer, the vendors can, and should, help ensure meaningful participation by both groups.
Exploring business objectives 
During interviews with customers of SAP Rapid Deployment solutions over the last few years, I explored how IT can work with lines of business to define concrete implementation objectives. Although always important, this step is particularly critical on rapid implementations, because shorter timeframes and lower budgets mean there is less tolerance for overruns due to poor planning. These underlying issues and relationships are independent of any particular software vendor or product and should concern almost all enterprise customers.
Given the critical role of defining business outcomes for technology initiatives, I recently asked three Rapid Deployment solutions customers about this aspect of their projects:
OraSure. Based in Pennsylvania, OraSure Technologies is a medical device manufacturer that develops a variety of diagnostic tests for the healthcare industry. The company brought to market the first in-home HIV test available to consumers. Orasure's revenues are approximately $90 million and the company employs over 300 people, including 50 sales professionals.
Historically, OraSure managed its sales pipeline by tracking and combining data using Excel spreadsheets linked together with time-consuming manual processes. Each sales person maintained a spreadsheet containing their own customer interactions; on a weekly basis, a sales director manually consolidated these individual reports to create an overall, company-wide view of the sales pipeline. The company's Manager of SAP Systems, Scott Baker, describes this manual consolidation as an "error-prone" and slow process.
OraSure's project goals therefore included:
Eliminating manual consolidation of sales data
Using mobility solutions so sales people could easily, and efficiently, enter sales data throughout the day as they visited customers and prospects
Creating a real-time, overall view of the entire company's sales pipeline, reflecting accurate and timely data on sales interactions with customers
Kennametal. With revenue of $3 billion and 13,000 employees, Kennametal develops and sells a variety of industrial products and components.
Although Kennametal has been an SAP customer for almost 20 years, users still had difficulty extracting data to create financial models in areas such as pricing and quoting. According to Tom McKee, Director of Global Information Technology, creating these models required business analysts to maintain numerous spreadsheets, outside the SAP system, so they could manipulate the data as required. These "Excel jockeys," as he calls, them, manually pulled data from SAP to construct the elaborate models required to quote and price Kennametal's products.
These manual process had two primary drawbacks: slow speed and the risk of inaccurate data. For example, the pricing team would need three to four months to model the impact of changes in raw material prices, during which time "the world can change," as McKee explained. In addition, after extracting this spreadsheet data from the source SAP system, the company lost confidence in its ability to maintain a "single view of the truth."
To address these issues, Kennametal deployed SAP HANA with four project goals:
Dramatically reducing the time required to create pricing models
Increasing responsiveness to customers by enabling the company to produce fast, customized quotes during the sales process
Preventing "order stall" by more aggressively managing the order and sales process
Improving inventory management
Deutscher Fussball-Bund. The DFB is Germany's national football association and, with 6.8 million members, claims to be the largest sports association in the world. The organization employs about 220 people, maintaining a headquarters and over 20 branch offices throughout Germany. To understand the relationship between DFB's business and technology requirements, I spoke with Daniel Gutermith, Program Manager responsible for implementing the organization's new integrated sports solution, and Ralph Dietz, who is the association's IT coordinator.
Although a significant part of DFB's business is selling tickets to football matches, the organization's financial and ticketing systems were disconnected silos that could not exchange data. As a result, the association did not have transparency across multiple internal departments, forcing employees to compensate with inefficient manual processes. Because the customer database was also a disconnected silo, DFB was also unable to gain a complete view of customer activity or segment its customer base to create targeted marketing campaigns.
To address these shortcomings, DFB implemented CRM and is deploying SAP's HANA Enterprise Cloud with a ticketing solution from SAP. The key business objectives for this set of initiatives included:
Link sales (ticketing) systems with the finance department
Create a single repository of customer data to improve communication with customers, run segmented marketing campaigns, and provide better customer service
Rapidly deliver small parts of the project, within target time and budget goals, and then iterate
Collaboration is the key
Achieving implementation success always requires close cooperation between IT and people from the specific business areas that the software will touch. This requirement is particularly acute with rapid implementations, because schedules are compressed and there is a lower tolerance for budget overruns. 
When project failures occur, managers may blame the technology — "Did bugs cause the problem?", "Does the software not work?", "Did our vendor fail?" However, my experience studying projects over the course of many years leads to an inescapable conclusion: success absolutely depends on combining business expertise and core technical skills. Business projects with weak technical skills are like an Olympic runner with broken legs: the race is a nonstarter. Similarly, brilliant project technologists without clear business goals may spin their wheels and accomplish little of real value. Success demands that both sides work together.
Shifting from a large implementation mindset to deploying incremental pieces in stages over time requires software vendors, consulting firms, IT departments, and business stakeholders to modify their expectations. The transition has implications for enterprise software in areas such as economics, management, staffing, and technology. As is always the case, innovation and new approaches require new thinking.
Although this change may be difficult for some vendors and customers to manage, the era of large, monolithic, and expensive implementations is over.

(Cross-posted @ ZDNet | Beyond IT Failure Blog)