Forbes was kind enough to pick up a thread I did on Quora about my 5 favorite good days, and 5 most visceral bad days, in the early days, of getting from $0 to $10m in ARR.
If you didn't see it there, let me share it here.  Maybe it will be cathartic for you.
There's a start-up saying that The Highs Are Higher in start-ups, and the Lows are Lower, than anything else you will do.
It is true.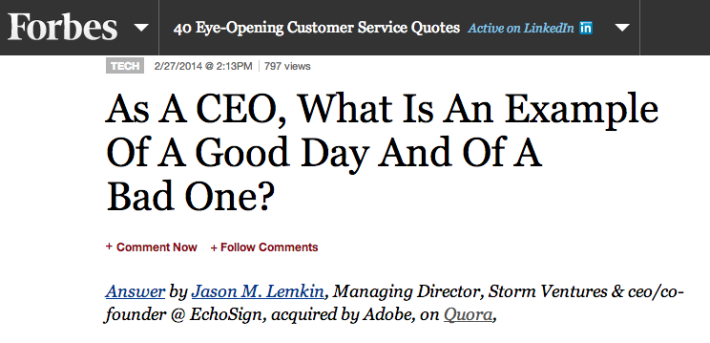 1.  A Good Day:  I'm running out of cash in the earlyish days –  & somehow convince a key customer to pay us an $300k additional pre-paid … even though contract doesn't require it and isn't up for renewal for 10 months.  Gets us six months more runway.  Company survives to live another day and raise our Series B.  I had a terrific, quiet Party of One.
2. A Bad Day:  The Day It's Clearly Hopeless.  For me, this was about 9 months in.   No matter what, we'd never be able to get to $1m in revenue fast enough, let alone profitability.  The spreadsheet just didn't pencil out.  We weren't going to be able to raise any more capital, and there was just no way the math could work.  Before that day, The Day It's Clearly Hopeless, it may be grim — but it's different once you hit that certain day when you know it's mathematically hopeless.
3.  A Good Day: Cash Flow Positive.  Boom!  We hit this around $4m in ARR.  No more VCs getting to call the shots.  Now, no one could kill us but ourselves.  Time to plan the first company retreat!
4.  A Bad Day:  Crappy M&A Offer Pulled in First Year.  Yes, it was a totally crappy offer.  Albeit from a good company.  But since It Was Clearly Hopeless (see point #2), I was pretty deeply bummed to have this option pulled out from under me.
5.  A Good Day:  Hiring My Real VP of Sales.  It was pretty brutal for a while there.  Trust me, until you've hired someone great, you don't know.  And then you do — and it's magic.  All of a sudden, I could focus on what really mattered.  Beyond that, bringing someone super talented into the company that brings a positive attitude and a whole team with him — just epic.
6.  A Bad Day:  When I Had No Salary And Didn't Get My Requested $10k Bonus Even Though I Brought In an Extra $250k All-Cash Upfront Deal.   Argh.
7.  A Good Day:  Dec 31, 2009; Dec 31, 2010; Dec 31, 2011; Dec 31, 2012.  When we killed it every year on the last day of the year.  Exceeded the plan and our own expectations.  New Years was spent in the office.  It was just too fun to see the deals rain, once we had something (and the right guy in #5).  [I didn't run the shop after '12.]
8.  A Bay Day: The Day My Mentee Quit on Me to Go Off and Do Better.  This was a tough day, or at least time for me.  There are only so many people in a start-up that both (x) help carry the load and (y) that you can fundamentally trust.  I only lost one of these, ever.   But it was terrible.
9. A Good Day:  Our Company Retreat at $10m ARR.  Being together, as a real team, all rowing the same way, to the same goals, with the business of firm ground.  5-stars all the way.  It's really the greatest thing in the whole start-up world, a real team, executing together, with a singular goal.  Maybe one of the greatest things in the whole wide world.
10.  A Mixed Day:  Selling.  It's your life work, your baby.  It's great if it grows, if it quadruples and quintiples, after you sell.  But then, when you see that — you know what could have been.  And you only get so many at bats.

___________
And that was relatively easy.  If you want to hear the story of my first start-up, where I had to sign a $750,000 full-recourse note, and close $6m in customer contracts in 30 days, just to get our Series A funding … read
here
.
(Cross-posted @ saastr)