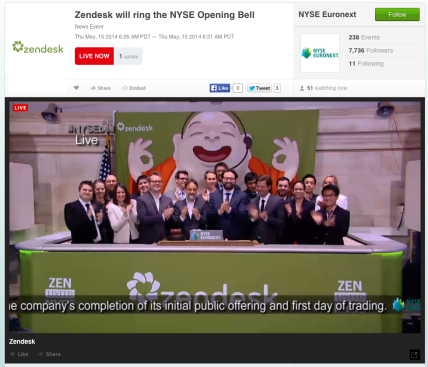 There's a common bit of advice we entrepreneurs and execs always get:  worry less about the competition, and more just about growing your own business.
It's good, sound advice.  But man — it's hard advice to follow.  Between your competitors' 100 tweets about a day about however Everyone In the World Loves Them, their $50m in venture financing last week, their We Rule the World press releases (that no one reads but you) … competition is all around you.  And that's not even including the deals you are working on every day, every week, every hour, trying to beat the competition.  If you're a founder or in sales or marketing or customer success … you'll be talking about the competition Every Single Day.
And the one thing though that gets your attention more than anything is when a Big Tech Co. enters your space.  Either by building a product from scratch — which is anxiety-provoking enough.  Or worse, buying a top competitor that already has great customers and real traction.  Oy.
Yeah, it's good to worry.  I mean, if Salesforce buys your #1 competitor, they have, overnight, added two orders of magnitude of resources and potential customers and all that to your competitor.
But let's look at the empirical evidence in SaaS (and some adjacent examples):
Salesforce buys Assistly-> Desk.com.  Did this kill Zendesk?  Not according to the IPO the other day.
Oracle buys Eloqua.  Salesforce buys ExactTarget buys Pardot.  Did this kill Marketo, or Hubspot, or Act|On?  Not near as I can tell.
Twitter buys Tweetdeck.  Did this end the market for Hootsuite or Buffer, or really anyone?
Salesforce buys Radian6.   So what?
SAP buys Ariba.  Tradeshift and Coupa keep growing. May be even faster.
Citrix buys Zenprise.  Didn't seem to impact Airwatch or MobileIron.  Or Airwatch itself getting bought for $1.54 billion.
The list is endless.
And it's not like a lot of these acquisitions failed or anything.  In fact, most of the products on the list above have substantially grown post-acquisition.  In turns out, once an enterprise application has hit at least $30-$40m in ARR … it's almost impossible to kill.  It will still grow, the customers will still renew, etc.  For years, even worst case.  Throw some more sales resources on it, and it can accelerate, post-acquisition.
But somehow, even though they maybe could … the acquirers almost never kill the competition, post-acquisition.  Nine times out of ten, they just seem to grow the market, make the competition stronger.  Maybe because so many SaaS categories are really natural oligopolies, not monopolies.  More on that here.
Of course, having said all that, there's one thing that's relatively clear:  when a Big Tech Co buys your competitor — I highly doubt they are going to buy you, too.  Having been a VP in a Fortune 500 Tech Company, I can tell you, acquiring two of something is really, really tough.
So if Google, Salesforce, Adobe, Oracle, whomever, buys your competitor — scratch that acquirer off your Liquidity List.
But otherwise, just act as if your competitor raised another $20-$40m in venture capital.  Which they did, because that's how much extra capital the acquirer will allocate to them.  And assume they just added a deep, unbreakable strategic partner in the acquirer itself.  Salesforce is forever aligned with Pardot 😉
But maybe … not too much more than that.
(Cross-posted @ saastr)