Ok we've had a great time in the Big Apple so far.  Last week, we gave a great keynote at the Enterprise Tech Meet-up on How to Hire a Great VP of Sales.  We'll put the video up soon.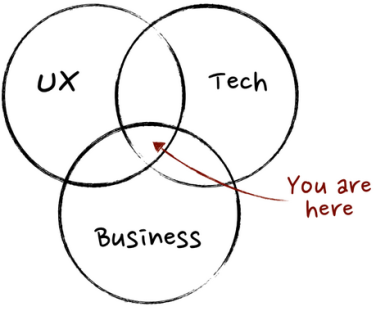 And next week, together with Work-Bench, NYC's leading Enterprise Growth Accelerator, we'll have our first SaaStr Social outside of Menlo Park … right at Work-Bench's super slick space on Fifth Avenue.  (110 Fifth Avenue). Building on the terrific SaaStr Soiree we did last time on marketing, with Jon Miller, co-founder and VP of Marketing at Marketo, and Brendon Cassidy and Loretta Jones, previously VP of Sales and Marketing at EchoSign … we're tackling an equally important topic this time … Why You Need a Great VP of Product. We'll start off at 6pm with a tag team of (x) one of the best VPs of Product I've ever known, Jon Stross, co-founder of hot NYC SaaS start-up Greenhouse.io, and (y) his co-founder and CEO of Greenhouse, Dan Chiat.  They're an incredible team doing millions in recurring revenue and we'll learn together about how a CEO works with a VP Product; when to hire one; the difference between good and great; ways to divide-and-conquer; and much more. And then we'll have some cocktails and talk all things Recurring Revenue, as usual! Sign up here.
——————————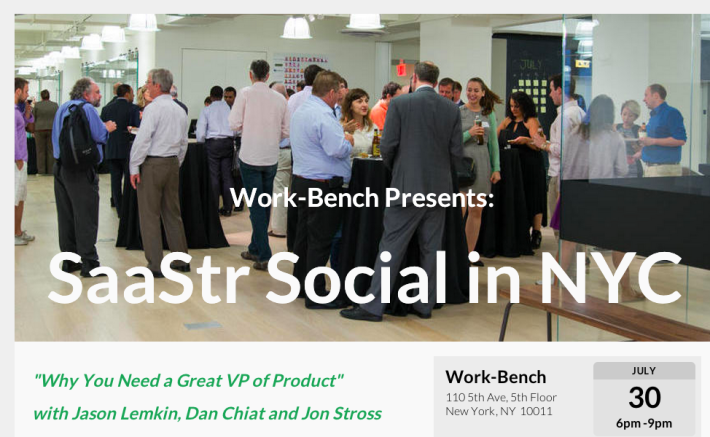 EVENT DETAILS: 
It's time for a 
SaaStr Social in New York
 – at NYC's leading Enterprise Growth Accelerator, 
Work-Bench
!   Drinks will be provided at 7:15pm, but first, there will be a discussion at 6:15pm on one of the key topics SaaS founders don't always get right — when and how to hire a great VP of Product, how the hire can truly accelerate your business, and what to expect.   Together with 
Jason M. Lemkin
 we'll have a founder combo from one of New York's rising SaaS star start-ups, 
Greenhouse.io
.  
Dan Chiat
, CEO and co-founder and 
Jon Stross
, Chief of Product and co-founder, will do an unscripted Q&A with Jason on what to expect from a VP of Product, how to make the hire right, and how a CEO and a VP Product can work together to accelerate things post-initial traction.   Welcome  6:00-6:15pm Discussion  6:15-7:15pm Drinks & Networking 7:15-9:00pm  
BACKGROUND:
Dan Chiat and Jon Stross: Prior to Greenhouse, Dan co-founded Lab49, building advanced solutions for the world's leading investment banks, hedge funds and exchanges.  Jon headed product development at leading B2B and B2C companies, including enterprise software leader Merced Systems (acquired for $200m by NICE) and top 200 website and category leader BabyCenter.com. Interestingly, Dan is an engineer by training — but Jon is not. A topic we'll also dig into. Jason Lemkin: Jason is a Managing Director at 
Storm Ventures
. Storm has been the first or very early investor in many leading enterprise/SaaS start-ups, including his own EchoSign (acquired by Adobe), Marketo, MobileIron, Appcelerator, Sandforce, Guidespark, Pipedrive, Algolia search-as-a-service, and more. Jason has co-founded two successful start-ups selling to the enterprise. Most recently, he served as CEO and co-founder of EchoSign, the web's most popular electronic signature service, from inception through its acquisition by Adobe Systems Inc. He is author of 
SaaStr.com
, the largest web community of SaaS founders and entrepreneurs, with over 750k views per month and 4 million views on Quora.
(Cross-posted @ saastr)