Right about now, Jeremy Roche the CEO of SaaS Accounting vendor FinancialForce (more on them here) is on stage at CloudForce in New York telling the world about the integration they've made with Salesforce's chatter functionality. I had an opportunity to speak with Roche a week or so ago under a strict embargo about the integration – it seems FinancialForce were particularly worried that any leak of the announcement might jeopardize their chances to speak at the event. Apparently salesforce CEO Marc Benioff is getting close to Apple CEO Steve Jobs in terms of exerting control over every little thing. But anyway, I digress.
Firstly a bit of an update on FinancialForce – they've now got customers in over 40 countries and are seeing something of a polarization among their users – with many utilizing the entire accounting functionality, but many larger customers using FinancialForce as a kind of accounting "middleware" – facilitating the integration between large enterprise systems such as SAP, and smaller divisional systems. In fact FinancialForce recently showcased their integration with SAP, allowing sales data from a business unit using FinancialForce to be populated through to the SAP ledgers – see the diagram below: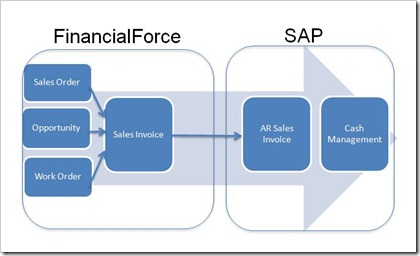 According to their PR blurb, FinancialForce:
want(s) to help finance reach the whole (or part) of sales which as we know is a pain in the real world when wrangling via email. We are giving them the ability to initiate and be part of conversations that they wouldn't normally be included in until a problem occurs or questions need answering. We think there's real value in this and that it creates a different sense of where finance sits in the organization that can drive longer term value. The collaborative finance function – bringing accountants from the back office into the heart of the business. Since everything in business comes back to a financial transaction, the opportunities both internally and externally are compelling
What Financial Force is releasing is an integration of their core accounting product with Chatter and a continuation of the interaction between the front and back office functions of an organizations. This leverages the ability of Chatter to follow all types of objects, be they people, opportunities, cases, customers etc. FinancialForce is enabling their "Chatterbox" a rules builder for chatter that Roche pointed out a couple of use cases for:
A financial manager, concerned about cashflow, might create a rule that shows them progress relating to every opportunity about (for example) $50000 that will be closing in the current quarter
A service manager may create a rule that allows them to follow all service cases with no progress activity for a certain number of days
Check out the video below which gives an example business scenario for chatter:
I've always been cautious about social tools that promise to revolutionize the enterprise – but I have to say that an integration between chatter and a third party force.com application really shows the promise these social tools can bring – dragging information kicking and screaming out of the app and to where a user needs it.