Online impersonators could be fined up to $1,000 and/or up to one year in jail according to California Senate Bill 1411, which Governor Schwarzenegger has just signed into law.   The new law is  meant to protect victims of cyberbullying, malicious impersonation – says  Senator Joe Simitian, the Bill's author on his homepage:
"E-personation," said Simitian, "is the dark side of the social networking revolution. Facebook or MySpace pages, e-mails, texting and comments on Web forums have been used to humiliate or torment people and even put them in danger. Victims have needed a law they can turn to."

A recent New York Times story, "As Bullies Go Digital, Parents Play Catch-Up" (December 5) provides a disturbing example. A mother, distressed by her son's emotional withdrawal, learned he was being ostracized at school because "the kids say I'm saying all these nasty things about them on Facebook." Though he hadn't created a Facebook page, his mother found a page with his name and picture. "Someone had forged his identity online," the Times reported, "and was bullying others in his name."

"E-personation takes no special expertise," said Simitian. "It's as quick and easy as posting comments on a Web forum under another person's name. Until now, there really has been no deterrent."

Online impersonators have sent Twitter messages "signed" by celebrities, pretended to be someone else to send obscene e-mails, even subjected others to unwanted sexual advances by assuming their identity to post invitations on adult sites. In one example, a woman angry about her ex-husband's girlfriend pretended to be the girlfriend's daughter on an adult dating site, causing the daughter to receive lewd responses.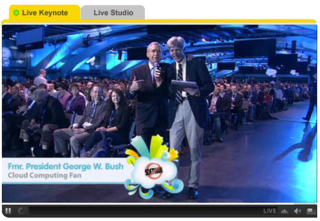 So could Fake Steve be deemed illegal? I doubt it.   Likewise, I think the George Bush impersonator we've seen at Dreamforce is safe, even though he was seen online. Again, the law's intent is to fight malicious impersonation, and Senator Simitian said he wanted to be "conscientious about protecting the free speech rights of those who impersonate for parody, satire and political speech."
There is an easy litmus test for impersonation – "Fake" in the name clearly does not fall in this category – but malicious intent will be a matter of judgment.  I believe that requiring the actual "impersonated" person's consent, as the Senator seems to suggest goes too far.
Update – the rest of the World is waking up 😉