By Hutch Carpenter on January 17, 2014
via the Daily Mail I've previously written about collecting jobs-to-be-done from customers. Because I was analyzing a broad topic across the entire innovation lifecycle, it was a good way to get a breadth of insight. However, it doesn't work as well in the more common situation for product managers and innovators: analyzing a specific flow. […]
Posted in Featured Posts, Trends & Concepts | Tagged brown paper, Capgemini, customer insights, customer interviews, customer needs, jobs to be done, jtbd, mba, self-driving cars, Voice of the Customer

By Ben Kepes on June 10, 2012
Mid June will see me winging my way to New York City to attend Forecast 2012, a one day event arranged by the Open Data Center Alliance (ODCA). Forecast is touted as an opportunity to share knowledge and expertise through presentations, technical workgroups and the all important networking opportunities. I'll be joined at Forecast by […]
Posted in Infrastructure | Tagged BMW, Capgemini, cloud computing, Information technology management, intel, New York City, open data center alliance
By Martijn Linssen on April 3, 2012
Yesterday I published my financial analysis of 4 traditional system integrators: Accenture, Atos Origin, Capgemini and Logica. In a conversation I got asked why IBM wasn't on the list, and my answer was somewhere along the line of "it's not a pure player". Also, I hadn't published my Indian friends yet, so here are another […]
Posted in Business | Tagged accenture, atos, Capgemini, financials, IBM, Logica, SI, stats, wipro | 1 Response
By Martijn Linssen on April 2, 2012
Traditionally, 31st of March is the date that all my favourite system integrators (SI) have released their annual report for the previous year. Oddly, however, I've seen some strange changes this year – for the first time. I could -and will- even say that traditions have been broken with I had to look hard and […]
Posted in Business | Tagged accenture, Capgemini, financials, Logica, revenue, SI, stats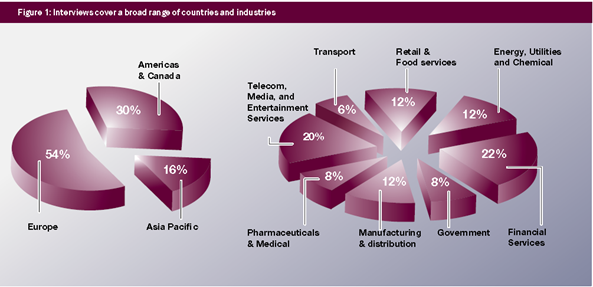 By Mark Fidelman on December 29, 2011
Don't believe the world's businesses are going social?  Take this recent declaration from CapGemini's Managing Director, Global Head of Practices, Didier Bonnet when discussing Social Business with me: "We've actually repositioned the entire practice around digital transformation. So for us it's not just changing one service offering; it's our entire focus globally for our teams […]
Posted in Business | Tagged andrew mcafee, Capgemini, didier bonnet, enterprise 2.0, mit | 2 Responses
By Martijn Linssen on August 1, 2011
I've made the mistake once again: underestimating an enterprise's business and process flow while looking at it from a conceptual or logical point of view, before hitting what we call the physical layer. Call me an idiot please, yes you can.
Let me use a few metaphors and make this an easy one to understand. I'll follow the model above.
My client sells candy. Red, green and blue.
Posted in Application Software, Featured Posts | Tagged application development, architecture, Candy, Capgemini, Data quality, Enterprise architect, Enterprise architecture, knowledge, maturity, Supply Chain | 2 Responses
By Martijn Linssen on March 8, 2011
I was attended on Twitter to this thoughtless, clumsy, mindless piece by Peter Sayer on PCWorld: Capgemini Consulting, a specialist in strategy and transformation, is about to transform its own strategy for the second time in two years. To cope with the change, the company plans to recruit up to 1,000 staff this year, predominantly […]
Posted in Business, Featured Posts | Tagged 1.0, attrition, business exceptions, Capgemini, change, consulting, E2E, Ernst & Young, financials, information, risk management, social media, stats, trust
By Martijn Linssen on March 6, 2011
First post in a series of 5-10, I will release all my views and opinions on the Art of Integration. I challenge you to disagree, and bash me with arguments and reasoning. Feel free to shoot from the hip and aim at the heart, anything goes really. I am absolutely convinced that I am right […]
Posted in Application Software, Featured Posts, Infrastructure | Tagged 24/7/365, A2A, adapt, application development, architecture, b2b, B2C, Business rule, Capgemini, EAI, edi, EDIFACT, enveloping, ESB, guaranteed delivery, Information Technology, integration, maturity, messaging, perfect integration, standardisation, transactions | 2 Responses
By Martijn Linssen on January 16, 2011
In my previous post I gave away financial stats on The Big Three and The Big Four, showing their revenue, profit and R&D – for the company as a whole but also calculated relatively for each employee. As Wim Rampen marvelously noted, the real drooling stats would be in measuring all that by customer, rather […]
Posted in Business | Tagged accenture, Atos Origin, Big Four, Capgemini, financials, information, Logica, Research & Development, stats