Browse:
Home
/
Oracle Corporation
By Jason M. Lemkin on April 14, 2015
You may have noticed LinkedIn recently made its largest acquisition so far, of Lynda.com for $1.5 billion.  If you haven't heard of Lynda.com, it's a SaaS / subscription service for training and e-learning.  One thing to note is who its co-founder is:  Lynda Weinman.  The Wall Street Journal called her "the mother of the Internet." […]
Posted in Business, Entrepreneurship, Featured Posts | Tagged @aneelb, @levie, Benioff, box, Cult of You, larry ellison, Marketing & Partnerships, Oracle Corporation, Safra A. Catz, salesforce, salesforce.com, workday
By Ben Kepes on November 8, 2012
I've got a love/hate relationship with the traditional analyst firms. Their people are incredibly smart and very thorough, but sometimes in their search for massive levels of details, they miss the very point of technology. A good case in point is the recently released Forrester Enterprise Cloud Database Wave report.
Posted in Featured Posts, Infrastructure | Tagged cloud computing, Customer, database, forrester, larry ellison, Multitenancy, Oracle Corporation, Oracle Database | 1 Response
By Adron Hall on September 21, 2012
Open Source Software (OSS), Why Some Fail At It OSS has won the war. It has been over for years now. Microsoft has ceded, Oracle, VMware and many others have stepped up and attempted to embrace the open source community. Sometimes they've been successful, sometimes they haven't. They're slowly changing their models to play well […]
Posted in Featured Posts, Open Source, Strategy | Tagged closed source, community, ideas, linkedin, microsoft, mysql, nosql, open source, open source software, Oracle, Oracle Corporation, oss, vmware
By Ben Kepes on August 13, 2012
So Alex Williams (a great guy, good friend and awesome cloud pundit) wrote a post a week or two ago entitled "Why The Open Cloud Wins And Oracle Loses When IT Gets Virtualized." (subtle huh?) Oracle wasn't overly happy at Alex's comments and counter posted saying that "TechCrunch is Clueless about Oracle Cloud." So… some […]
Posted in Business, Featured Posts | Tagged blog, databases, dell, Florian Müller, google, java, netsuite, Oracle, Oracle Corporation, techcrunch | 1 Response
By Ben Kepes on July 30, 2012
Last week NetSuite reported it's Q2 revenue and earnings – high level numbers include: Subscription and support revenue was $61.0 million, a 27 percent increase on an annual basis Cash flows from operations were $15.2 million, up by 80 percent from Q2 2011 While the specific numbers themselves are of vague interest, and more so […]
Posted in Application Software, Business, Featured Posts | Tagged Cloud ERP, Enterprise resource planning, larry ellison, netsuite, Oracle Corporation, saas erp, sap, successfactors, zynga | 5 Responses
By Ben Kepes on July 6, 2012
While I was in Las Vegas a few weeks ago I took the opportunity to sit down with Alex Williams, Cloud editor of Silicon Angle, and Stu Miniman from Wikibon, to film a video interview. The interview cam at an interesting time – in the space of 24 hours we'd seen some large Cloud-related announcements […]
Posted in Enterprise | Tagged big data, hewlett packard, larry ellison, microsoft, Oracle, Oracle Corporation, SAP AG, wikibon | 2 Responses
By Ben Kepes on March 19, 2012
It's plainly clear that traditional software vendors can no long rubbish this new breed of Cloud vendors. While once Oracle, Microsoft and SAP could pour scorn at the little pests sniping at their ankles – today we have some impressive vendors waiting in the wings who look increasingly likely to become the mega-vendors of the […]
Posted in Business, Featured Posts | Tagged larry ellison, netsuite, Oracle, Oracle Corporation, salesforce.com, sap, SAP AG, successfactors | 1 Response
By Ben Kepes on October 24, 2011
Last month it was Salesforce buying customer support solution Assistly. This month it's Oracle buying RightNow, a more mature, but similarly positioned player. The deal, worth around the $1.5B mark, fills the void that Oracle had in terms of customer-facing engagement tools. While Oracle does have CRM on-demand, this acquisition
Posted in Business, Featured Posts | Tagged assistly, larry ellison, Oracle, Oracle Corporation, rightnow, RightNow Technologies, salesforce.com, zendesk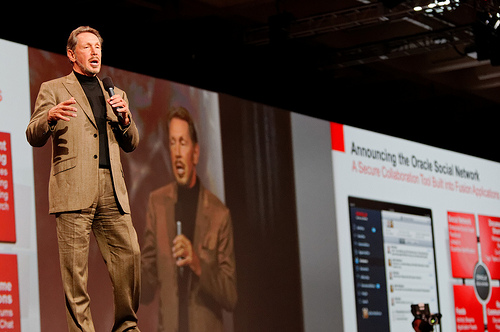 By Ben Kepes on October 6, 2011
  by  Oracle_Photos_Screenshots  During a keynote that saw Larry Ellison make up for his abysmal performance of a few days before, and before bigger news events in Silicon Valley bought the tech world to its knees, a number of announcements were made with the usual Ellison flourishes. Curiously these two massive announcements were made towards the […]
Posted in Enterprise, Featured Posts, Infrastructure | Tagged #df11, #OOW11, cloud computing, Ellison, larry ellison, oow, openstack, Oracle, Oracle Corporation, salesforce.com, simon wardley