Browse:
Home
/
organization
By Jacob Morgan on July 30, 2013
The title of this post comes from a quote from Yoda, the famous Star Wars characters.  Who would have thought that many years later this quote would be so applicable to organizations seeking to become more collaborative.  This quote was actually used by one of our clients during an internal presentation to her executive team […]
Posted in Enterprise, Featured Posts | Tagged collaboration, commitment, culture, organization, star wars, Yoda
By Ben Kepes on January 31, 2013
When talking with organizations about how the cloud can help them, I'm often told that cloud has no place in their organization and they're not using it in any way, shape or form. They also point to the perceived security risks that cloud brings as their #1 reason for not using any flavor of cloud. […]
Posted in Featured Posts, Security | Tagged active directory, android, cloud computing, dropbox, onelogin, organization, Password management, single sign on, windows | 13 Responses
By Ben Kepes on January 9, 2013
I don't preach an "all or nothing" cloud approach. Cloud is a sliding wedge and existing organizations should look at taking baby steps and slowly increase the breadth and depth of their cloud usage.
Posted in Application Software, Featured Posts | Tagged cloud computing, forrester, Forrester Research, james staten, organization, Staten, vmware | 5 Responses
By Ben Kepes on November 30, 2012
A while ago over on GigaOm, Matt McLarty of Layer 7 Technologies wrote an awesome post about the rise of Bring Your Own Device or BYOD. For those who haven't spent much time thinking about the term, BYOD describes the new paradigm where individuals within an organization supply their own devices (mobile,
Posted in Featured Posts, Trends & Concepts | Tagged BYOA, BYOB, employment, future, hardware, ipad, organization | 1 Response
By Ben Kepes on October 31, 2012
I've been a part of, or at least a witness to, a huge number of battles about what constitutes the "real cloud." These battles seem to generally be fought on a Sunday afternoon U.S. time – that kind of suits me fine because it means the Monday mornings in my time zone have enough entertainment […]
Posted in Featured Posts, Infrastructure | Tagged cloud computing, las vegas, Mark Thiele, Om Malik, organization, twitter | 1 Response
By Ben Kepes on September 26, 2012
An interesting recent trend I've been seeing is that of new vendors differentiating their cloud service through giving customers ultimate flexibility around what they use on their cloud – rather than shoehorning them into a couple of OS options, or a few pre-defined server sizes and specs, these vendors provide
Posted in Infrastructure | Tagged Amazon Web Services, CloudComputing, eucalyptus, openstack, operating system, organization, rightscale
By Ben Kepes on September 12, 2012
For awhile now I've been thinking about how best to describe what I "do". I run Diversity, a pretty diverse (hence the name) operation which covers a bunch of different things – I spend time evangelizing about Cloud Computing, I opine on the technology landscape, I consult to large technology
Posted in Business | Tagged CloudComputing, Diversity Limited, Krishnan Subramanian, organization, Rishidot Research, techcrunch | 1 Response
By Ben Kepes on August 13, 2012
Salesforce is this morning announcing a new product, Chatter Communities, that aims to take the engagement aspects of its social tool Chatter out to specific verticals within organizations. Chatter Communities allows an organization to set up a specific community quickly – as an example it could be used to create
Posted in Application Software, Featured Posts | Tagged Business process, chatter, customer service, Dave King, Enterprise resource planning, organization, salesforce chatter, salesforce.com
By Ben Kepes on June 30, 2012
Closing out my series looking and some tips and tricks for organizations making the move to the cloud — arguably leaving the most important for last — I'm going to write about the internal issues that need to be taken into consideration. First a bit of context around this – my perspective is that cloud […]
Posted in Business | Tagged Application service provider, CloudComputing, google apps, m2c, organization | 2 Responses
By Joel York on April 17, 2012
One of the most difficult SaaS challenges is choosing the right SaaS sales model. This eBook provides a a simple, powerful strategic framework for choosing right.
Posted in Business, Featured Posts | Tagged chaotic flow, ebook, organization, saas, saas sales, saas sales model, sales, sales model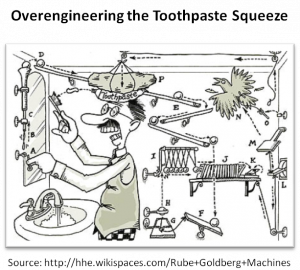 By Hutch Carpenter on February 28, 2011
Innovation killer #4: Create an obstacle course for ideas. Guaranteed way to kill the innovative spirit? Model your processes on Kafka's The Trial or your typical parking clerk's office. CIO Magazine, July 24, 2007 On the heels of the SpigitFusion release, I've had the opportunity to hear from a number of people on the topic […]
Posted in Featured Posts, Trends & Concepts | Tagged blog, chaos, control, CPG, CPGs, facebook, innovation, Innovation and Idea Management, innovation management, knowledge management, organization, Organizational culture, process, SpigitFusion | 1 Response
By Ben Kepes on December 8, 2009
In my real-world life I have a number of different management positions with both commercial and not for profit organizations. Management is a really interesting topic, especially given the generational shift that a Gen X to Gen Y move is bringing. One of the organizations I'm involved with is voluntary, and that introduces an entirely […]
Posted in General | Tagged culture, employee, management, organization | 2 Responses