Browse:
Home
/
Service level agreement
By Guest Authors on September 6, 2013
It is pretty well-established that users can expect public cloud service vendors to provide some form of service credits in the event of system downtime. "Downtime" may be classified as time that critical infrastructure, network, and/or server hosts are unavailable. In the event the vendor fails to meet certain uptime guarantees, users may be entitled […]
Posted in General, Infrastructure, Technology | Tagged exclusive remedy, Service level agreement | 1 Response
By Ofir Nachmani on June 4, 2013
A while back, I was starting up an EC2 instance on the AWS cloud when it entered an endless restart loop. All the application deployment efforts we'd made (installation and service configuration) over two weeks just went down the drain. So we called support. The support rep redirected us to his team leader who simply […]
Posted in Enterprise, Featured Posts, Infrastructure, Strategy | Tagged Amazon Web Services, aws, backup, business continuity, cloud computing, cloud outage, disaster recovery, enterprise 2.0, foursquare, High Availability, paypal, Service level agreement | 1 Response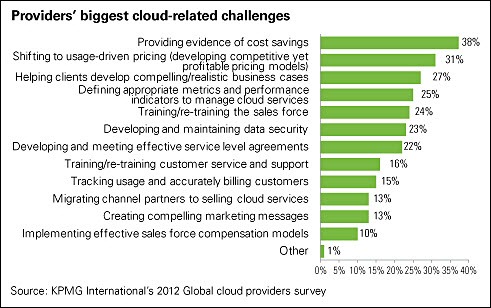 By Michael Krigsman on December 26, 2012
Although cloud computing holds the promise of innovation and business transformation, buyers remain focused on cost and are confused over license models.
Posted in Business, Enterprise, Featured Posts | Tagged CIO, Cloud computing security, CloudComputing, enterprise software, IT service management, KPMG, Service level agreement | 1 Response
By Paul Miller on December 13, 2012
Hewlett Packard used its Discover event in Frankfurt last week to reassert the company's cloud credentials. Public, private, hybrid; HP is painting pictures that encompass them all, whilst seeking to protect hardware revenues and reassure conservative executives at some of its largest and most profitable customers. But HP has been here before, making bold claims […]
Posted in Featured Posts, Infrastructure, Open Source | Tagged cloud computing, dell, dell world, discover2012, Enterprise Computing, Frankfurt, hewlett packard, hp cloud, HP Discover, HPDiscover, hybrid cloud, michael dell, openstack, private cloud, public cloud, Service level agreement, sla, vmware
By Ofir Nachmani on May 21, 2012
This last year has been immensely interesting for me as I watched the shaky cloud market mature. The change in people's state of mind was rapid. The discussion advanced quickly from "the cloud will not prosper" to "Can we trust its security?", and on to the current mood – "the cloud is here to stay". […]
Posted in Enterprise, Featured Posts, Infrastructure | Tagged business, cloud brokers, cloud computing, cloud management, Independent software vendor, platform as a service, Service level agreement, software as a service, Systems Management, wikipedia
By David Terrar on March 12, 2012
One of the big issues for a buyer today considering Cloud Computing is how do you choose a good Cloud provider from a bad one?  Who do you trust?  Maybe the Cloud Topic needs some standards?  Well actually there are so many standards bodies and vendor groups that the picture is confused – something that […]
Posted in Trends & Concepts | Tagged cloud computing, IBM, open cloud manifesto, open data center alliance, Service level agreement, Standardization
By Mark Suster on November 3, 2010
There is a transition in every company from a "seat of the pants" kind of entrepreneurial company to a "process driven" mechanized one.  Many people who are successful in the former fare less well in the latter. Frankly, I'm much more of the former kind of guy and I tire of the routine process & […]
Posted in Entrepreneurship, Featured Posts | Tagged sales, Service level agreement, Startup Advice, swiss army knife | 1 Response