Browse:
Home
/
venturebeat
By Paul Miller on July 21, 2015
Does Google's Knowledge Graph have a 'facts' problem?: Maybe. It might, of course, be unwise for a single short response at the top of a set of search results to even try to 'answer' a question when we think, theorise or hypothesise towards an answer, rather than knowing it. I'm not suggesting, for a moment, that Google's current […]
Posted in Application Software, Featured Posts | Tagged dinosaurs, google, Knowledge Graph, tftd, venturebeat
By Paul Miller on April 10, 2013
For the past two years, Ben Kepes and I have helped the team at VentureBeat assemble the programme for their annual Cloud Computing event, CloudBeat. It looks as though we may end up doing something similar with them this year, as CloudBeat moves from Redwood City to downtown San Francisco, and from November to September. […]
Posted in Featured Posts, Trends & Concepts | Tagged Analytics, ben kepes, big data, cloud computing, CloudBeat, Data analysis, data science, data visualisation, DataBeat, Linked Data, open data, venturebeat
By Ben Kepes on November 13, 2012
In launching FileLocker, InfraScale CEO Ken Shaw is claiming that both DropBox and Box have been "substantially misrepresenting their capabilities when it comes to security and won't be adopted by enterprise or Government" because of it. Those are pretty strong words…
Posted in Application Software, Security | Tagged box, cloud storage, Data Loss Prevention, dropbox, egnyte, Encryption, FileLocker, ssl, Star Trek: Enterprise, venturebeat | 2 Responses
By Ben Kepes on November 9, 2012
My background and entry into the technology industry came from my experience wrangling tech for a number of different small and mid-sized businesses. I've seen first hand just how much work is involved in tailoring discrete solutions into something that actually meets the specific needs of the business. This is even more difficult for resource […]
Posted in Application Software | Tagged Application programming interface, CloudComputing, Extract transform load, IBM, quickbooks, salesforce.com, SnapLogic, software as a service, venturebeat | 1 Response
By Paul Miller on August 14, 2012
Right at the end of November, we'll once again be doing what we can to assemble a stellar cast of cloud companies and their customers at the Sofitel in Redwood City, just south of San Francisco.
Posted in Business, Featured Posts | Tagged cloud computing, CloudBeat, cloudbeat2012, redwood city, San Francisco, silicon valley, sofitel, venturebeat
By Paul Miller on July 23, 2012
This October, two great US events are making their first forays into Europe. O'Reilly's big data conference, Strata, reaches London on 1-2 October. Then GigaOM's cloud computing event, Structure, hits Amsterdam on 16-17 October. I've attended both in the States (see disclaimer), and look forward to seeing how each sets about fusing the best elements […]
Posted in Business | Tagged Amsterdam, big data, cloud computing, conference, Event, GigaOM, GigaOM Pro, london, oreilly, strata, strataconf, structure, structureconf, venturebeat
By Zoli Erdos on May 26, 2011
It's rare I can dust off a 6-year old article, find it still relevant and repost it without any changes.  But that's what happened this morning, I felt provoked by this VentureBeat title:  Even start-ups need a COO – wanted to respond, than I had that "I've already said this" feeling and realized I would […]
Posted in Entrepreneurship, Featured Posts | Tagged Entrepreneurship, management, startups, title inflation, vc funding, venture funding, venturebeat | 3 Responses
By Zoli Erdos on January 13, 2009
Gotta love TechMeme – for bringing out great debates. Here's how two reputable sources came to completely different conclusions regarding the same event, in this case NewsGator's funding. R.I.P. Enterprise RSS –says ReadWriteWeb: The Market Doesn't Look Good Newsgator, one of those three companies, announced today that it has closed another round of funding, unbelievably […]
Posted in Analysis | Tagged enterprise rss, newsgator, ReadWriteWeb, rss, techmeme, venturebeat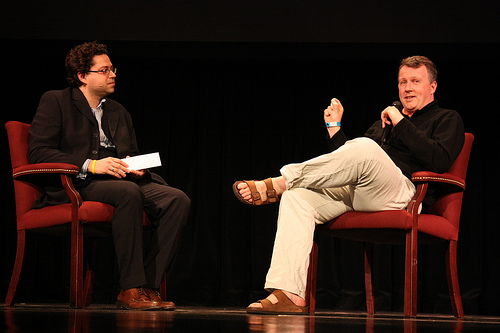 By Zoli Erdos on January 12, 2009
There were two Golden Globes ceremonies this weekend: one for movies, and one for Technology. The latter, the Crunchies took place in San Francisco, and despite the posh venues – Herbst Theatre and the City Hall – it was definitely less glitzy then her Hollywood sister. Here are some of the major fashion observations dedicated […]
Posted in Analysis | Tagged awards, crunchies, GigaOM, golden globe, innovation, silicon valley, startups, techcrunch, Technology, venturebeat