Browse:
Home
/
white-house
By Michael Krigsman on October 21, 2014
The selection of US Chief Information Officer must be an innovative Washington IT insider. Anyone else is doomed to fail.
Posted in Featured Posts, Strategy | Tagged CIO, Steven VanRoekel, Vivek Kundra, white-house | 1 Response
By Michael Krigsman on October 9, 2014
As President Obama seeks a new U.S. Chief Information Officer, it's time to examine the opportunities and obstacles associated with this important role.
Posted in Business, Featured Posts | Tagged CIO, Federal CIO, white-house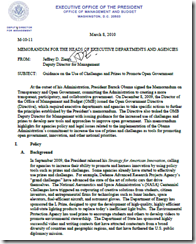 By Hutch Carpenter on March 11, 2010
On March 8, 2010, the White House Office of Management and Budget (OMB) issued guidance to Federal agencies strongly encouraging the use of…crowdsourcing (link to pdf). Specifically, using crowdsourcing to further the objectives of "creating a more transparent, participatory, and collaborative government." Yeah, that thing that Cisco, Pepsi and Unilever are doing. This is big. […]
Posted in Analysis | Tagged crowdsourcing, gov20, Government, incentives, open innovation, white-house | 1 Response